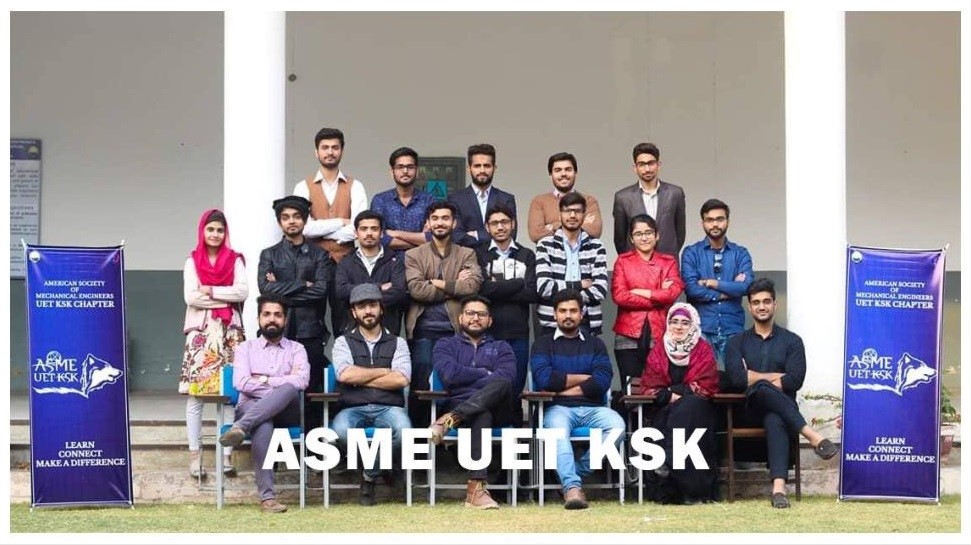 AMERICAN SOCIETY OF MECHANICAL ENGINEERS (ASME UET KSK)
ASME is a Global non-profit membership organization that enables collaboration; knowledge sharing, career enrichment, and skills development across all engineering disciplines towards a goal of helping the global engineering community develop solutions to benefit lives and livelihoods. In the Campus, we arrange 5-6 seminars, competitions, industrial tours, recreational tours, Mega Events eve1y year. The aim is to provide the engineering students with a platform that can make the world realize that we, engineering graduates are as creative as they come. We hold our Olympiad in the start of eve1y year (February/March) so the freshmen can also be a pru1of the glory. Our First National Event was in the strut of 2014, SPDC (Student Project Design Competition), in which Participants from even China and other countries came to the competition. It was conducted in partnership with ASME Global. (www.asme.org).
OUR UNIVERSITY
University of Enginee1ing & Technology, Kala Shah Kaku (City Campus) was established in 2006 on M- 2 Islamabad Motorway, Lahore Bypass. It offers bachelor's & Master's degree programs in the following departments. Apart from all of this, Our Campus also has the Largest Solar Wall in Pakistan .
Electrical Department

Mechanical, Mechatronics and Manufacturing Department,

Chemical Department,

Computer Department,

Bio-Medical Engineering Department,

Center of Energy Research & Development
PREVIOUS NATIONAL EVENTS:
ASME Industrial Automation Seminar 2021

ASME ME, BME, CS Orientation 2021

ICME 2020

ASME UET KSK and ASME SRT CARRIBEAN Online Session 2020

Orientation 2019

ME 19 Campus Tour 2019

Orientation 2019

UET KSK OLYMPIAD 3.0 (2018)

TECHNOBOLT (2017)

UET KSK Olympiad (2016)

SPDC 2014 International

Eco-Car Marathon (Punjab Youth festival)

ASME Annual Orientations

Punjab Youth Festival Flying competition, organized with ASME Pakistan

SPDC Pak local rounds 2011 to 2015
Entrepreneurship Seminar
"The c1itical ingredient is getting off your butt and doing something. It is as simple as that. A lot of people have ideas, but there are few who decide to do something about them now. Not tomorrow. Not next week. But today. The true entrepreneur is a doer, not a dreamer." So ASME UET KSK conducted a Lecture on Entrepreneurship by Mr. ABDUL REHMAN ARIF on May 5, 2018, at 10:00 am. A lot of students participated, and they were practically convinced to be entrepreneurs. This event was necessary to build a culture for entrepreneurship because students interested in entrepreneurship get a chance to question their successors. As well as a bondage was created between successors and predecessors.
Higher Studies Seminar
Thinking of doing Masters? Ph.D.? Still do not know the methods to apply. Stuck in the choice between the universities? Worry not, all the queries were answered in this seminar by Waqar Baig and Ayaz Khan (held on 2SCh April 2018)
Agenda of the Seminar:
1) Scholarship Oppo11unities in different countries and bow to grab them
Choosing a right major or field for further studies abroad

Choosing a right Major Field for further studies a

Guide to find and contact relevant potential supervisors for

How low COPA/ percentage people can get scholarships