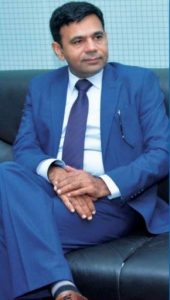 At the department of mechanical engineering، we believe in providing an exciting environment where the students can develop the contemporary skill set to thrive in their careers as professional engineers. We believe in creativity, diversity and empathy. A culture of competitive comradeship is what we focus on. The students are exposed to the latest trends emerging in field of mechanical engineering. Special emphasis is placed on the parallel development of knowledge, skills and behavior.
Introduction of the department
Mechanical Engineering is one of the oldest and broadest engineering disciplines. The new Department of Mechanical, Mechatronics and Manufacturing Engineering at KSK Campus was established in 2007. The department has procured latest laboratory equipments in order to conduct laboratory work of engineering programs. The department is growing and the leadership is committed to make it an excellent engineering education department. The department has very active International Student Societies Chapters of American Society of Mechanical Engineers (ASME) and American Society of Heating, Refrigerating, and Air-Conditioning Engineers (ASHRAE). The department is working actively with the industries academia and international collaborations. The department hosted the international students' professional development conference (SPDC) in 2014. Students from national as well as international universities participated in the conference. Number of students represented the Asia Pacific section of the ASME in Houston, USA in November 2015 and Philadelphia, USA in 2016. The Department has signed MoUs with different industries and international institutions in UK, Turkey and Italy for the joint collaborations. The department also has fully functional department library, Semester Cell, Quality Enhancement Cell (QEC), Industrial Liaison Office, Post Graduate Research Lab a Conference Room, Girls' Common Room and a Prayer Hall.
Program Mission Statement
To produce mechanical engineers equipped with knowledge and skills to carry on lifelong learning through quality teaching and training. Our graduates shall be able to serve for the sustainable development of the society while demonstrating professional ethics and responsible social conduct. 
Program Educational Objectives (PEOs)
The Mechanical Engineering Graduates will be able to:
PEO 1: Apply the knowledge to solve analytical and practical mechanical engineering problems. 
PEO 2: Work for continuous professional and sustainable socio-technical development. 
PEO 3: Demonstrate professional ethics, effective communication, and managerial skills. 
Program Learning Outcomes (PLOs)
Engineering Knowledge: An ability to apply knowledge of mathematics, science, engineering fundamentals and an engineering specialization to the solution of complex engineering problems.
Problem Analysis: An ability to identify, formulate, research literature, and analyze complex engineering problems reaching substantiated conclusions using first principles of mathematics, natural sciences, and engineering sciences.
Design/Development of Solutions: An ability to design solutions for complex engineering problems and design systems, components or processes that meet specified needs with appropriate consideration for public health and safety, cultural, societal, and environmental considerations.
Investigation: An ability to investigate complex engineering problems in a methodical way including literature survey, design and conduct of experiments, analysis and interpretation of experimental data, and synthesis of information to derive valid conclusions.
Modern Tool Usage: An ability to create, select and apply appropriate techniques, resources, and modern engineering and IT tools, including prediction and modeling, to complex engineering activities, with an understanding of the limitations.
The Engineer and Society: An ability to apply reasoning informed by contextual knowledge to assess societal, health, safety, legal and cultural issues, and the consequent responsibilities relevant to professional engineering practice and solution to complex engineering problems.
Environment and Sustainability: An ability to understand the impact of professional engineering solutions in societal and environmental contexts and demonstrate knowledge of, and need for, sustainable development.
Ethics: Apply ethical principles and commit to professional ethics and responsibilities and norms of engineering practice.
Individual and Team Work: An ability to work effectively, as an individual or in a team, on multifaceted and /or multidisciplinary settings.
Communication: An ability to communicate effectively, orally as well as in writing, on complex engineering activities with the engineering community and with society at large, such as being able to comprehend and write effective reports and design documentation, make effective presentations, and give and receive clear instructions.
Project Management: An ability to demonstrate management skills and apply engineering principles to one's own work, as a member and/or leader in a team, to manage projects in a multidisciplinary environment
Life-long Learning: An ability to recognize the need for, and have the preparation and ability to engage in, independent and life-long learning in the broadest context of technological change.